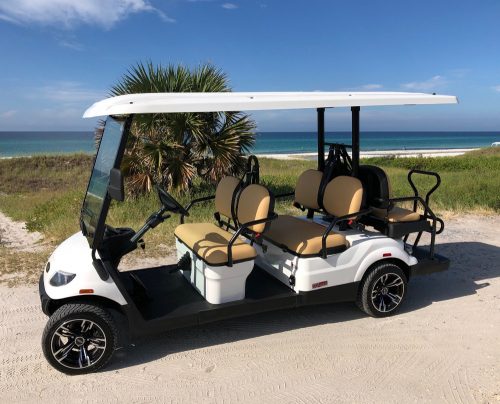 Golf Cart Rental
Enjoy 30A while casually riding along in your golf cart!
SPECIAL FALL/WINTER DEAL!!
$50 OFF each night of your rental.
Discounted price is automatically entered for you.
Enter your dates to view your pricing.
(Reminder-delivery is by 4pm on the 1st day of your rental and pick up is in the morning on the last day of your rental.)


Searching Availability...
We rent 4 and 6 passenger electric golf carts and deliver all along 30A at no extra charge. Our LSV (Low Speed Vehicle) golf carts are street legal on roads 35mph or less and must follow all traffic laws.
Click here
to review the Walton County LSV laws.
You will want to confirm with the property manager that you can have a rented golf cart from Shoreline and that there is an outlet for charging. We require that all drivers be 21 or older.
Bookings are based on a nightly rental rate, so book your rental based upon your arrival night and departure morning.  We will deliver your cart by 4pm on your arrival day/first day of your rental and pick up your cart the morning of your departure around 10am.
**Be advised that we cannot rent golf carts into the following locations:  Watercolor, Watersound, Prominence/The Hub, Rosemary, Alys Beach, the community between Rosemary & Alys, or Gulf Trace (Owners in Gulf Trace may rent for their personal use). Do not depend on the name of the community in the rental address, they are often inaccurate. Confirm with the property manager first, and then, reach out to us if you have any question. There are no refunds on golf carts rented and then returned if not allowed at the property**